News Release : Softcare Receives FDA 510(k) Clearance for LSFG-NAVI
August 12, 2016, Fukuoka, JAPAN --
Softcare Co., Ltd. is pleased to announce that it received 510(k) clearance from the U.S. Food and Drug Administration (FDA) for LSFG-NAVI.
The Laser Speckle Flowgraphy (LSFG-NAVI) can visualize and measure the distribution of blood flow in the human retina in a broad area from macular to the optic nerve head. The most useful feature of the instrument is the ability to non-invasively observe blood flow synchronized with the heartbeat as a series of 2D blood flow maps.

Softcare plans to commence sales the LSFG-NAVI in the United States from October 2016.




This motion picture shows the time-varying blood flow map
in human retina.




Average blood flow map shown in gray scale.

Laser Speckle Flowgraphy
LSFG-NAVI
more details...
Dr. Hitoshi Fujii, CEO of Softcare Co., Ltd (Prof. Emeritus of Kyushu Inst. Technology):

LSFG-NAVI was certified as a medical device in Japan in January 2008 and is now certified as a medical device with clearance to distribute in the United States. This important milestone advances our goal to develop LSFG devices which contribute to worldwide health and longer life.
GLOBIZZ CORP., PRESIDENT, HARRY HARUYAMA FROM LOS ANGELES:

Congratulations on receiving FDA 510k clearance for Softcare's LSFG-NAVI!
LSFG-NAVi received FDA approval within a much shorter time period than other product of this type due to our team collaborations. Globizz worked closely with Softcare's engineering team and carefully prepared the FDA application. We strongly believe this approval will contribute to the quality of life for US citizens and Globizz is very proud to be involved with this project.
This product is very rare in the market and has potential for a major contribution to the US medical industry. It is important now that people who need this device know about its existence. To promote this project more efficiently, Globizz has agreed to support US sales and marketing of the LSFG-NAVi as Softcare's US Sales Distributor.
Our Japan office will continue to support development and FDA approval of future Softcare products and our headquarters in Los Angeles will help with sales in the US.
GLOBIZZ CORP. Website: https://www.globizz.net/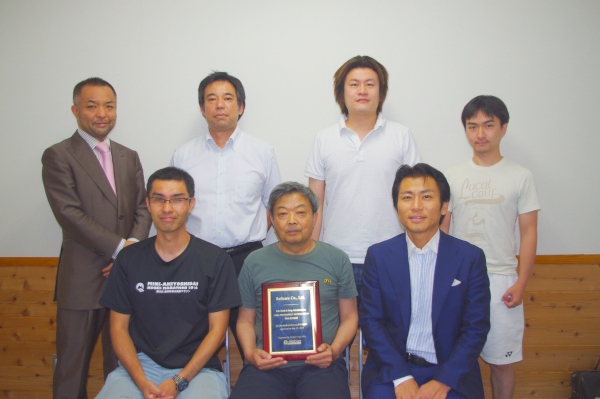 Commemorative Photo with Mr.Haruyama